BACKSEAT

FIGHTER

Mark es un luchador nómada que es transportado en el asiento de atrás de un coche para luchar en combates clandestinos.

En su camino se encuentra con Sandy. Ambos comparten un mismo deseo: olvidar el dolor y comenzar desde cero una nueva vida.

Sin embargo, Mark está a punto de reencontrarse con el pasado del que ha huido y esto pondrá en peligro su plan de escape, a Sandy y a todos lo que le rodean.

(English version)

Mark is a fighter that is transported in the backseat of a car to fight in underground combats.

Mark meets Sandy, and both share the same desire: to forget the pain and to begin from zero a new life.

But Mark is just about to re meet his past from which he has run away and this will put his escape plan and everybody around him in danger.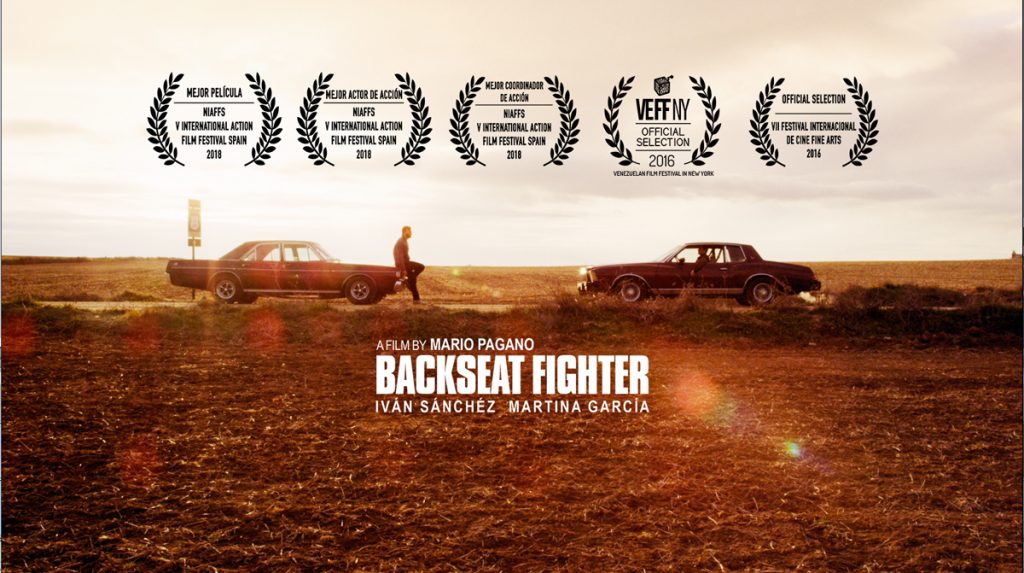 Awards

& Press

Backseat Fighter obtuvo los premios de Mejor Película / Mejor Actor de Acción y Mejor Coordinador de Acción en el Festival Internacional de Cine de Acción de España 2018.

(English version) Backseat Fighter has been awarded with three awards at the International Action Film Festival of Spain with: Best Picture / Best Action Male Actor & Best Action Coordinator in 2018.
 Backseat Fighter es una película independiente producida en España y ubicada entre la frontera de México y USA. La película está rodada en inglés y en ella participaron actores de más de 16 nacionalidades distintas. Backseat Fighter hizo su premier en la Ciudad de Nueva York y fue estrenada en Europa y Latinoamérica en salas de cine entre el 2016 y 2017.

(English Version) Backseat Fighter is an independent movie produced in Spain, the story is located in the frontier of Mexico and USA. The movie was shot in english and had the participation of actors of 16 different countries.Backseat Fighterhad premiered in New York City, and it has been in theaters in 2016/2017 in Europe and Latin America.

Mario Pagano
Trailer
Backseat Fighter
Behind
the Scenes
Making of de Backseat Fighter